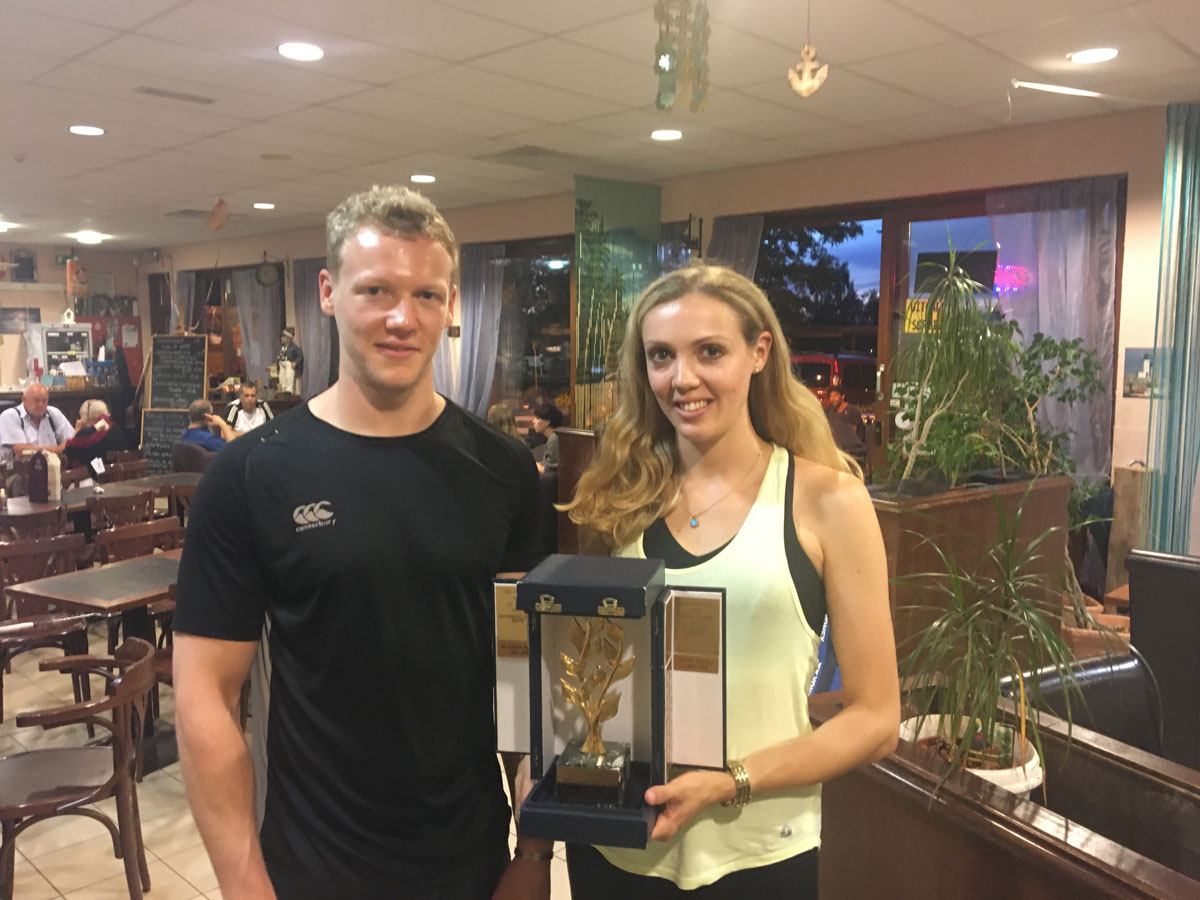 Laura and Tommy Cole visited the club recently and met and shared memories of their parents with former and current members. They were delighted to see the trophy which is presented annually in memory of their parents, Heather and Steve Cole.
The Prize is awarded in memory of Steve and Heather Cole, who died tragically in a car accident in February 1995. The memorial trophy was presented to the Club by Mr & Mrs Jefcoate (Heather's parents) and Mr & Mrs Cole (Steve's parents) in memory of the couple.
In memory of Heather and Steve Cole
Those of us who had the pleasure of knowing Steve and Heather through the Badminton Club, are left clearly with a tremendous feeling of sadness and loss, but also with a wealth of good memories, and with a strong sense of debt, as we all benefited greatly from their friendship. So I'm glad to have the chance to say some of the things that we never got round to saying Whilst they were with us, to try and sum up what a wonderful couple they were, and what they meant to us.
Hard as it is, we are trying to feel happy right now as we think of Steve and Heather, because for us the one thing above anything else that they symbolise, is happiness. Whenever they were around, you knew that fun and laughter wouldn't be far behind. It was the openness of their characters, their friendliness, their insistence that they were going to have a good time - so that meant you had to have a good time too. Heather with her bouncy nature and her irresistible laugh, and Steve able to talk to anyone and make them feel at ease.
There are many of us who came to know their house well. Their generous nature and good hospitality resulted in numerous parties and New Year's Day at the Cole's became an institution. We will miss their company, even Stephen's moans at Heather when she was enjoying that extra biere blanche on a Friday night and it was his turn to drive. She would giggle and grin mischievously and tell off Steve for being so grumpy, but being Stephen he always took on a responsible attitude when babysitters were concerned and it was getting on towards midnight. Whenever they were both at the club on a Friday night it was more like a party than a quiet drink afterwards. They really enjoyed being with their friends and everyone enjoyed being with them.
Steve would make us laugh with his plea that people in the Commission worked too hard and were paid too little. However, it is certainly true that Steve was totally committed to the Badminton Club turning up at club nights come rain, wind or shine. For him badminton was an essential part of his life, and his enthusiasm and his willingness to take anyone on in a game of singles was a huge motivation to those around him. For a string of people, including Heather, beating Steve at singles became a major goal. He always supported the teams and was never one to let you down if there was a league game, so much so that he has been known to travel halfway across Europe to play in a match.
We have such fond memories of them together at the various social events. When we were at Center Parks at the end of January, Heather amazed us and the Belgian audience with her talent for Karaoke - we had no idea she could sing so well. Heather was also a badminton player of great strength and stamina and her will to win in matches or tournaments was both tenacious and contagious. The courage and strength she displayed when she severed her Achilles tendon in the final ladies match last April and her fight back to fitness in the following months is an example of her commitment not only to the club but also to life. Her obvious delight at winning that first ladies doubles after the months of physio was a joy to behold. She was always one to pick herself up and get on with the situation and we think that is what she would want us to do. So her Ladies team members are going try very hard to win that league again, just for her.
We also remember Steve and Heather as patient and loving parents. They shared the joy of their children with us at the club, and we feel a strong bond with Laura and Tommy - especially with Laura who came along since she was a tiny baby and we all took our turns at being honorary aunts and uncles whilst Mum and Dad played their matches.
We are better people for having counted Steve and Heather amongst our friends. That they are no longer with us is hard to accept. They will be sorely missed. Laura and Tommy have inherited the same happy, positive attitude that their parents had, and it is in them that Steve and Heather will live on with us.